– Stephen K. Tung, BA Economics, University of California San Diego '94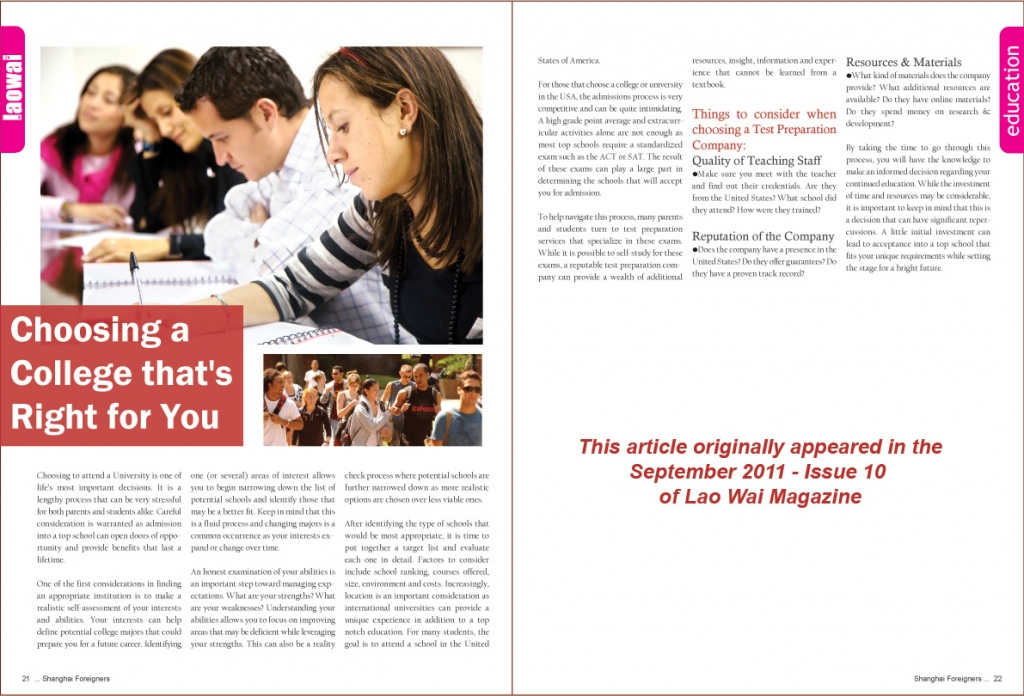 Choosing to attend a University is one of life's most important decisions. It is a lengthy process that can be very stressful for both parents and students alike. Careful consideration is warranted as admission into a top school can open doors of opportunity and provide benefits that last a lifetime.
One of the first considerations in finding an appropriate institution is to make a realistic self-assessment of your interests and abilities. Your interests can help define potential college majors that could prepare you for a future career. Identifying one (or several) areas of interest allows you to begin narrowing down the list of potential schools and identify those that may be a better fit. Keep in mind that this is a fluid process and changing majors is a common occurrence as your interests expand or change over time.
An honest examination of your abilities is an important step toward managing expectations. What are your strengths? What are your weaknesses? Understanding your abilities allows you to focus on improving areas that may be deficient while leveraging your strengths. This can also be a reality check process where potential schools are further narrowed down as more realistic options are chosen over less viable ones.
After identifying the type of schools that would be most appropriate, it is time to put together a target list and evaluate each one in detail. Factors to consider include school ranking, courses offered, size, environment and costs. Increasingly, location is an important consideration as international universities can provide a unique experience in addition to a top notch education. For many students, the goal is to attend a school in the United States of America.
For those that choose a college or university in the USA, the admissions process is very competitive and can be quite intimidating. A high grade point average and extracurricular activities alone are not enough as most top schools require a standardized exam such as the ACT or SAT. The result of these exams can play a large part in determining the schools that will accept you for admission.
To help navigate this process, many parents and students turn to test preparation services that specialize in these exams. While it is possible to self-study for these exams, a reputable test preparation company can provide a wealth of additional resources, insight, information and experience that cannot be learned from a textbook.
Things to consider when choosing a Test Preparation Company:
Quality of Teaching Staff
Make sure you meet with the teacher and find out their credentials. Are they from the United States? What school did they attend? How were they trained?
Reputation of the Company
Does the company have a presence in the United States? Do they offer guarantees? Do they have a proven track record?
Resources & Materials
What kind of materials does the company provide? What additional resources are available? Do they have online materials? Do they spend money on research & development?
By taking the time to go through this process, you will have the knowledge to make an informed decision regarding your continued education. While the investment of time and resources may be considerable, it is important to keep in mind that this is a decision that can have significant repercussions. A little initial investment can lead to acceptance into a top school that fits your unique requirements while setting the stage for a bright future.